Facility
The Mega Swim School is an indoor heated Ozone pool that provides health benefits for the skin, hair, eyes and nervous system. The water is clean and heated to a warm 32 – 34 degrees. The facility is naturally lit and well ventilated for an enjoyable experience.
We are open all year round so your child gets the optimum results due to ongoing swim lessons in the winter months. The water quality is checked several times daily to meet with industry standards.
There is a change room, baby change tables, seating, toilet and shower. You will be greeted by the sheep, chickens, goats, water dragons, birds, Polly the Python and Meggy's smiling face.
The continuity of ongoing lessons is key when it comes to your child's progress in swimming. The uniqueness of Mega Swim is that your child will have one teacher from 3 months to 8 years. Mega Swim grows with your family and its needs, building a strong bond and foundation in swim skills for life. The love of water is to be shared, respected, strengthened and enjoyed.
Ozone Swim – Healthy Swim Certified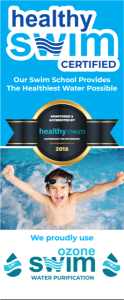 The health and safety of our swimmers is our top priority therefore we have recently invested in an Ozone Swim – Advanced Oxidation Purification System (AOP) which is a combination of both Ozone and UV technology.
The combination of Ozone and UV technology produces Hydroxyl Free Radicals, one of the most powerful oxidisers on the planet and will provide our staff and swimmers with the healthiest water/environment possible.
Our new AOP system will:
Destroy Chlorine by-products (Chloramines);
Destroy Chlorine resistant parasites such as Cryptosporidium and Giardia;
Reduce Chlorine demand;
Enhance water clarity;
Ensure staff and bather comfort; and
Improve air quality.
Contact Mega Swim today or take a look at what other parents say.